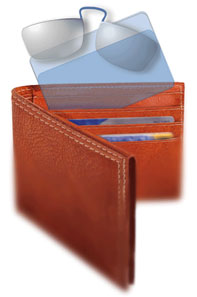 Pilot Reading Glasses
Eye Fly reading glasses are ultra-compact emergency reading glasses that miraculously fit in a wallet ... ingeniously designed to fit into a credit card sized protective case that slips easily into a wallet or purse so they are always conveniently at hand!
Perfect for the cockpit, these glasses allow clear forward vision while giving you prescription-quality reading lenses for charts, plates, flight plans, kneeboards, PDA's etc.
Nothing like the many foldable frame glasses available - none of these 'foldables' are compact enough to fit into the credit card slot of a wallet. Eye Fly glasses are always within easy reach.
The secret to Eye Fly glasses is the optical quality polycarbonate construction allowing the slimness, flexibility and strength necessary to fit into a matching credit card sized case!
Available in 4 strengths, 1.75, 2.00, 2.25 diopters. We offer a free 30-day strength-swap, and a 30-day money-back guarantee if you are not satisfied for any reason.