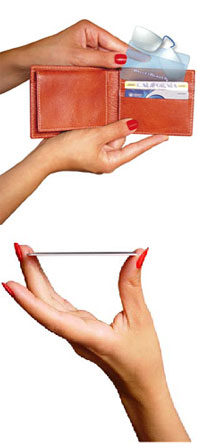 FAQ's
The Product:
The Ordering & Dispatching Process:
Returns/ Refunds & Complaints Procedures:
Other Products:
The Product:
Eye Fly Glasses are ultra-compact reading glasses that miraculously fit in a credit card case small enough to fit in your wallet! The pince-nez design enables the lenses to clip on your nose and with no side arms they are the perfect solution for use with headphones.
Will they break if I carry them in my wallet?
No! Eye Fly Glasses are made of the highest quality polycarbonate and are designed to be carried in your wallet. They will not break or shatter under normal use. The special coating also provides scratch-resistant protection.
What are typical uses for Eye Fly glasses ?
Eye Fly Glasses have a multitude of uses: perfect for map reading in the cockpit in addition to use with cell phones, PDA's, Newspapers, product labels, bills, receipts, books, and more
How do I know if Eye Fly glasses will fit me?
The revolutionary bridge of Eye Fly Glasses is fully adjustable to suit all wearers, and each is packaged with detailed usage instructions. "One size fits all".
How should I protect my Eye Fly Glasses?
Eye Fly glasses come with an ultra-slim credit card size protective case for use in your wallet and will fit into any standard sized wallet or purse—just like a credit card.
What is polycarbonate and why is it so special?
Reading glasses are typically made from CR39, a material that is thick and brittle. Polycarbonate is flexible, shatter-resistant, and allows visual correction using much thinner, lighter lenses. Eye Fly glasses also have a special coating to provide scratch resistance.
Can I try the product without taking it out of the packaging?
Yes! Eye Fly glasses are uniquely packaged whereby you are able to look through the lenses without removing any of the product packaging. This enables you to decide if you have ordered the correct strength and remain eligible for our free of charge strength swap if you have ordered an incorrect lens strength (see below for details on the free of charge strength swap).
The Ordering & Dispatching Process:
All orders are processed through this website (www.eyefly.co.uk)
Payment is arranged through PayPal (you will be automatically redirected to PayPal when completing your order online. Accepted methods or payment are listed on PayPal and include most major credit, debit and charge cards. You can also use your own PayPal account to pay for your order if you have an account. You do NOT need to have an account with PayPal to purchase Eye Fly glasses.
How safe are my credit/ debit/ charge card details?
Your payment details are securely handled by PayPal. For further information about online payment security please visit www.paypal.com
Your order will be dispatched using Royal Mail First Class Post. While we endeavour to process orders as quickly as possible, please allow 28 days from the date of the order. If you have not received your goods after 28 days please contact us by email: mail@eyefly.co.uk
Must I have a UK delivery address to purchase Eye Fly glasses?
Our delivery policy applies to deliveries in the UK, however if you do not have a UK delivery address and would like to purchase our products, please contact us by email mail@eyefly.co.uk and we will make special arrangements to get the product to you. We will also advise of delivery charges outside of the UK.
Returns/ Refunds & Complaints Procedures:
Do you offer a money back guarantee?
We offer a 30 day money back guarantee in the event that you have changed your mind about our product. The product must be in perfect condition on return and you will be liable for all postal charges. You will be refunded the price of the product, not the costs for postage and packing.
What can be done if I order the wrong lens strength?
We have a FREE of CHARGE strength swap policy if you have ordered the wrong strength of lens. We will cover the postage and packing costs for sending the new strength, on the condition that the product has not been removed from the packaging and is in perfect condition. You are liable for the costs of returning your original order to us.
What can be done if my product is damaged on arrival?
If your product is damaged on arrival please return it to us with full details to the returns address below and we can arrange for a new product to be dispatched or a full refund.
What is the address for returns?
Please send all returned goods to:
Eye Fly Ltd
51 High Street
Hampton Wick
KT1 4DG
Please note we can not accept returned goods in person.
What is your complaints policy?
Whilst we pride ourselves on excellent standards of service and product satisfaction we also appreciate the opportunity for constructive feedback. Please direct all comments and feedback to our email address: mail@eyefly.co.uk
Other Products:
How can I find out what other products you sell?
As and when new products are available full details will be posted on our website so please check www.eyefly.co.uk regularly for updates.